In the heart of the Paris district St. Germain des Pres, just a few hundred metres north of Jardin du Luxembourg, you can find the small brewpub O'Neil in a small alley, amongst a lot of other cosy bars and restaurants. When we came over here on 23rd May 2011, there was a wine festival going on in the rue des Canettes, and it was a challenge to fight our way through the drunken crowd. In the brewery itself it was very quiet, only a few guests – today, the whole district was rather orientated towards wine instead of beer.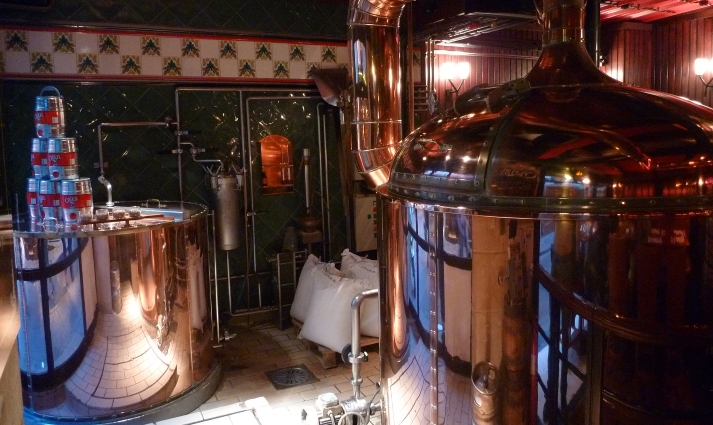 Entering the bar, the visitor directly passes by the small brewing installation, and he can see the copper kettles through the large window pane as well. In the rear, there are two levels with comfortable seats in the style of a classic pub, and through a nearly blind glass, you can rather imagine than really see the fermentation and maturation vessels in the back.
The menu offers four different beers that can be ordered in a tester with four 0,125 litre glasses. The Blanche ("Made from a mixture of barley and wheat grains, this is an exceptionally refreshing beer. With its slightly citrus flavour, this really is the perfect thirst quencher.") smelled wonderfully fruity and aromatic; however, it disappointed with an unattractive bitter and harsh taste that immediately occupied the palate. The Blonde ("A delicious golden lager made from a selection of aromatic hops. Fruity yet subtle taste and an excellent thirst quencher.") was a mild malty light beer with delicate fruit flavours; it reminded me almost a Kölsch. The Ambrée ("This amber-coloured beer is brewed from a mixture of carefully chosen special, pale malt grains. It is this that gives the beer its rich colour and malty taste. A well-balanced beer with a good clean flavour.") was round, malty, but also fruity and sweet – a very pleasant beer. Finally the Brune ("A rich, full-bodied beer which is a subtle combination of smooth and bitter.") was rather a black beer than a brown, which tried to act like a stout, but was lacking the necessary power and bitterness. Overall, quite individual beers, but of different stylistic quality.

The menu in the style of a newspaper, which provides information about the history of the brewery and about beer in general, offers a decent selection of very tasty Flammeküeches. But also the very hungry gourmand can be satisfied: With pork knuckle on sauerkraut, for example.
Despite the sometimes very annoying harassment by blind drunk wine drinkers, who stumbled through the brewpub in search of the toilet, the waitresses managed to stay consistently calm and friendly. So, we accept this brewery visit as a better one.
Brasserie O'Neil
20, rue des Canettes
75 006 Paris
France