Already from afar, the rotating blades of an old windmill welcomed the visitors of 't IJ Brewery in Amsterdam on 12th September 2009.
At the foot of the windmill and only some meters away from the water of one of the many channels in Amsterdam, you can find the brick walls that house the brewery's Proeflokaal. Every day between 15:00 and 20:00 hours, you can taste the beer produced on the premises and eat a few small things, really small things. Just some cheese bits, a few slices of sausage – enough to balance the taste of the beer and as an appetizer for feeding your thirst.
Outside on the terrace, there are numerous benches under small trees, providing a little shade; and whenever the weather is dry, they are all occupied. Inside it is narrow, quaint, not necessarily very clean, but it is providing a unique atmosphere. The walls are crammed with old beer bottles from around the world – yellowed labels and thick layers of dust greet the visitor.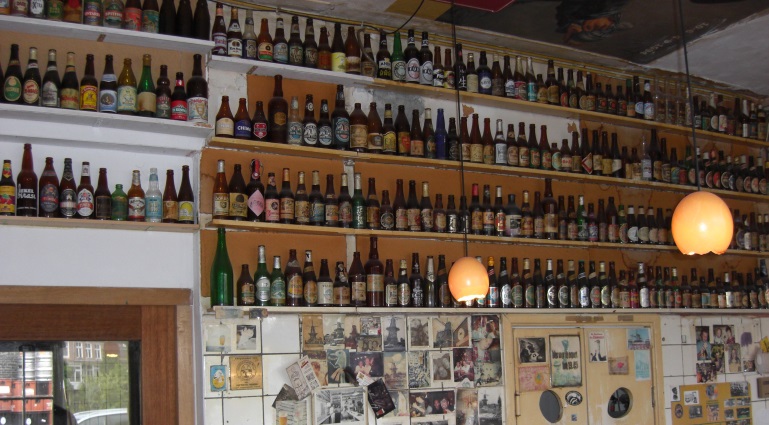 Next to the bar, you can have a look at the brewing installation – through the glass you can see the steel vessels. Nothing shiny just for show, but designed for daily operation.
The two beers we have been able to taste (unfortunately, as so often, there was still a long distance to drive…), were a bit disappointing. The IJwit, with 7% alcohol by volume surprisingly strong, was not too unpleasant for a witbier; however, it seemed edgy and rough, lacked a certain mildness and thus, was not as refreshing as other witbiers. The 5% Plzeň was light, but not really golden in colour; it had however, a certain grey tone which disappointed the eye. It was strongly hopped, but uneven and scratchy. In addition to the hop bitterness, I could feel a significant yeast bite – despite its name, not a real Czech pilsner.
Nevertheless, both beers have been at least interesting, and the nice atmosphere, the positively strange people sitting here, the feeling and simply the fact to sit at the old windmill not far from the water, having the opportunity to drink interesting beers with no fuss around made us happy. And of course, one has to appreciate that the IJ brews a huge range of different beers – such delight in experimenting, in offering variety and individuality, we would like to see more often in other micro breweries!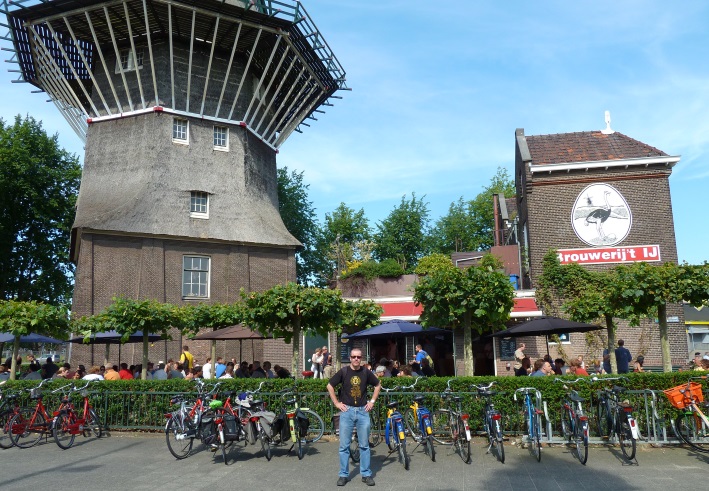 Postscript 12th August 2012: About three years later, I had once again the chance to sample some beers right on site – and this time I was happier. The IJwit turned out to be rounder, the Plzeň smoother, the India Pale Ale and the Columbus with 7,0% respectively 9,0% alcohol were heavily hopped, but very well balanced by a full, malty body, so they turned out to be very drinkable. Quite a positive and interesting experience!
Brouwerij 't IJ
Funenkade 7
1018 AL Amsterdam
Niederlande
Merken
Merken